Governors
Welcome!
The Local Governing Board at Heathfields Infant and Wilnecote Junior Academy are fully committed to working together to ensure your children flourish within all areas of school life, priority being they enjoy their learning and strive to achieve to their full potential across the widest curriculum we can offer.
What is the role of a Governing Board? Answer: To become a 'critical friend'.
Supporting the work of the Headteacher and other staff, this looks like, challenging decisions to ensure they are the best for the direction of the school, analysing and questioning data about both the budget and the pupils progress, evaluating strategies and holding the school accountable to ensure these are followed through and most importantly making sure all decisions are with the children at the forefront of our minds.
We meet as a governing body twice a term to review progress and re-evaluate future decisions to ensure we stay on track to meet the overall focus in the schools. We also have link governors that are head of topic's covering Maths, English, Health and Safety, Curriculum, SENCO, Safeguarding. Their role is to meet with key members of staff and talk with the children about their work. The Chair and Vice-Chair meet regularly with other Chairs/Vice-Chairs from all schools within the Fierté family to ensure cohesion of governance across the Trust.
We currently have vacancies and would welcome anyone interested in joining us as a governor who feels they have something to offer in the growth of our schools.
---
Below are some useful question and answers about governing bodies and a link to their national online support network: www.governornet.co.uk
Chair of Governors
Our Chair of Governors is Mr Matthew Fletcher who can be contacted at the addresses below.
Wilnecote Junior Academy
Mr Matthew Fletcher
Wilnecote Junior Academy,
Smithy Lane, Wilnecote,
Tamworth, Staffordshire,
England, B77 5LA
Heathfields Infant Academy
Mr Matthew Fletcher
Heathfields Infant Academy,
Saxon Close, Wilnecote,
Tamworth, Staffordshire,
England, B77 5LU
Alternatively, Mr Winstanley can also be reached via email at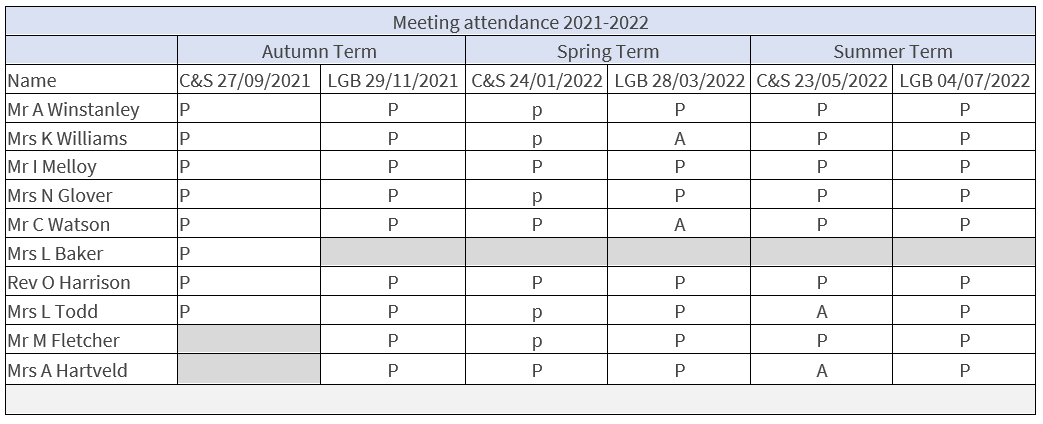 Frequently Asked Questions
How does a school governing body work?
A governing body:

works closely with the head teacher;
makes decisions collectively as a team;
often delegates decision-making to committees or to individuals, for example, to the head teacher; and
conducts most of its business through meetings, making use of relevant papers and guidance, and advice from the head teacher.
What do school governors do?
School governors:

promote high standards of educational attainment;
set targets for pupil achievement;
take general responsibility for the conduct of the school;
manage the school's budget, including deciding on staff numbers and pay;
make sure that the curriculum is balanced and broadly based, in particular that the National Curriculum and religious education are taught, and report on exam results and pupils' achievement in National Curriculum assessments;
participate in the appointment of senior staff (including appointing the head teacher) and regulate staff conduct and discipline;
draw up an action plan after an inspection by the Office for Standards in Education (OFSTED).